When Things Don't Go To Plan....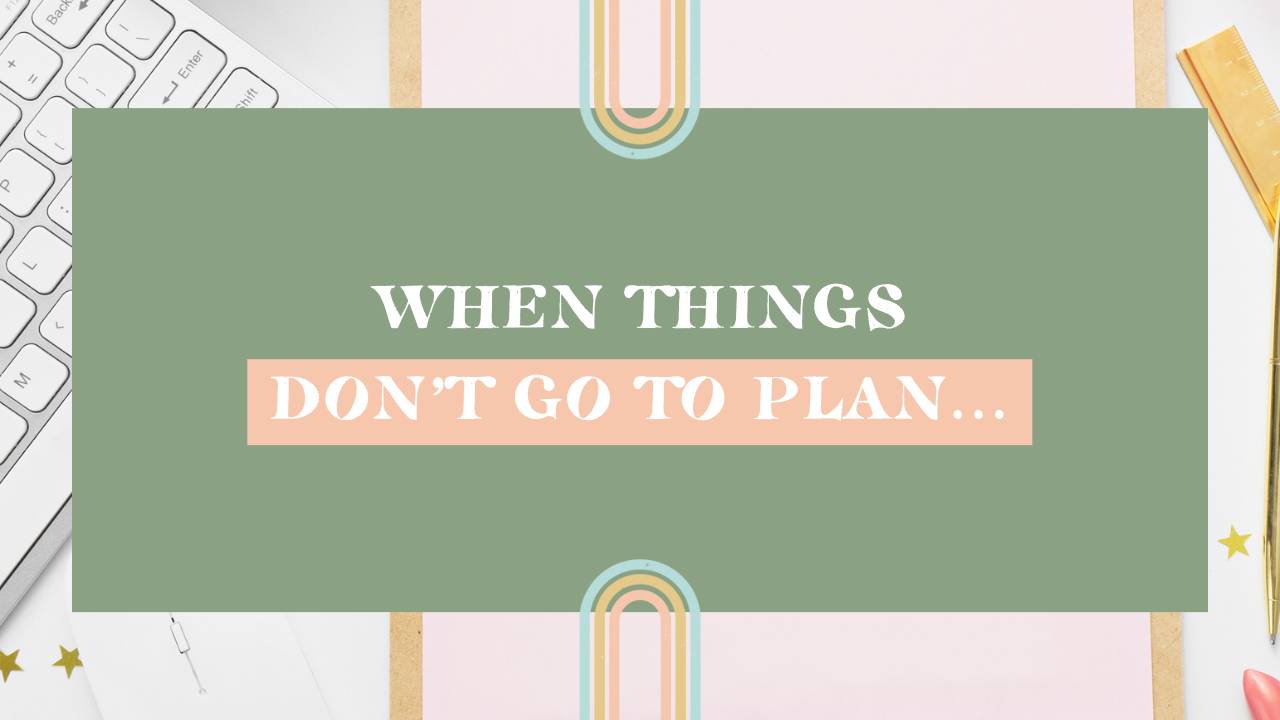 When Things Don't Go to Plan....
You probably started your online business so that you could have that elusive 'work-life' balance, or perhaps it was so that you could work from home, or maybe it was because you craved 'freedom' and have seen others travelling and working on their laptops...whatever the picture you had when you first started.
Perhaps you're now a couple of years into your business and quite frankly....it's not looking like that 'picture' you imagined!
I get it! Being a soloprenuer (a person who sets up and runs a business on their own) defintely has it's ups and downs and sometimes......'things don't go to plan".
A few weeks ago my daughter came home from school and was really sick...it developed into fevers for days and then a head cold. She kindly gave it to my other daughter who then a week later shared it with me! We were 'out' for weeks!!! I couldn't believe how sick I got. I tried to keep working (as a single mum I'm the only income earner in the house) but I was really struggling with high fevers and a head cold.
As a result ...my business suffered!
This experience made me realise how unprepared I was for the 'unexpected'! I didn't have my social media scheduled or any blogs ready to publish, I didn't have a process for reaching out to clients to let them know I wasn't available, I didn't have someone making sure that emails were still being read and responded to...All of this meant that I haven't posted in several weeks as I've also been playing catch-up with client work.
So...what do you do, as a solopreneur, when the unexpected happens....
(just so you know...I'm writing this as much for myself as for sharing ideas with you)
1. Things hardly ever go as planned (and that's totally ok!)
The first thing is to 'take a deep breath'. Running a business is not easy and it's totally normal for things not to go the way you planned for or expected. The most important thing is resting and getting well (if you've been sick) or at least doing whatever works to regulate your nervous system. I'm going to be honest and say that I find this hard....but I was told this many times over the past few weeks....and know it to be true.
2. Ask for help....or accept help
This is another thing I find hard - you may too. As a single mum I've learnt to do everything myself....so accepting help is really hard for me. But this time around I had to. My amazing friend brought around food for the kids and even spent a morning cleaning my house (including folding laundry and doing dishes) - I mean seriously....I have the most amazing friend!!
Allowing the help, in whatever way it comes, will aide in a faster recovery. It'll also mean that your kids aren't surviving on toasties for a week!
Another way of 'accepting help' is to consider hiring a VA. This isn't something that I've done yet, but I have been a VA for other business owners. This can be a huge help and support for you and your business if you're in a position to do so. Tasks such as creating and scheduling social media, checking and responding to emails....there are lots of things that a VA can take off your plate so that you have more time for the business tasks. They can also help to keep things moving if you are sick or can't be available.
3. Plan ahead...
Schedule, schedule, schedule....it kind of makes me laugh that I write this. I was scheduling and planning ahead but it still wasn't enough! If you're able to create and schedule your social media, or blog posts, or whatever marketing you do well in advance you will not run the risk of 'not marketing for weeks!' like me.
There are so many options to creating and scheduling your social media these days....including directly in Facebook Business Suite. And I'd recommend aiming for 2 or more weeks in advance. This way you aren't having to create, write and schedule every week and can get on with your other tasks!
4. Automate!
Investing in a CRM was one of the best things I've done in my business. A CRM is a 'customer relationship management' tool. I use dubsado but there are many others and some that may specialise in your field of work. The beauty of a CRM is that it keeps everything including your workflows, emails, contracts etc all in one place. You can set up automated emails, links to your booking calendar, reminders etc.
Side note: I ran my business for years without using a CRM. You don't need one. But if you get to a point where you want to automate and streamline your processes then it may be time to invest in one.
Those are my TOP TIPS for supporting yourself and your business for when 'things don't go to plan'. Unfortunately this is kind of inevitable....so there are definitely some things that you can do 'now' to help you when the time comes!
Interested in the CRM that I use? Click the image below for more details.