Signs You're Ready for a Website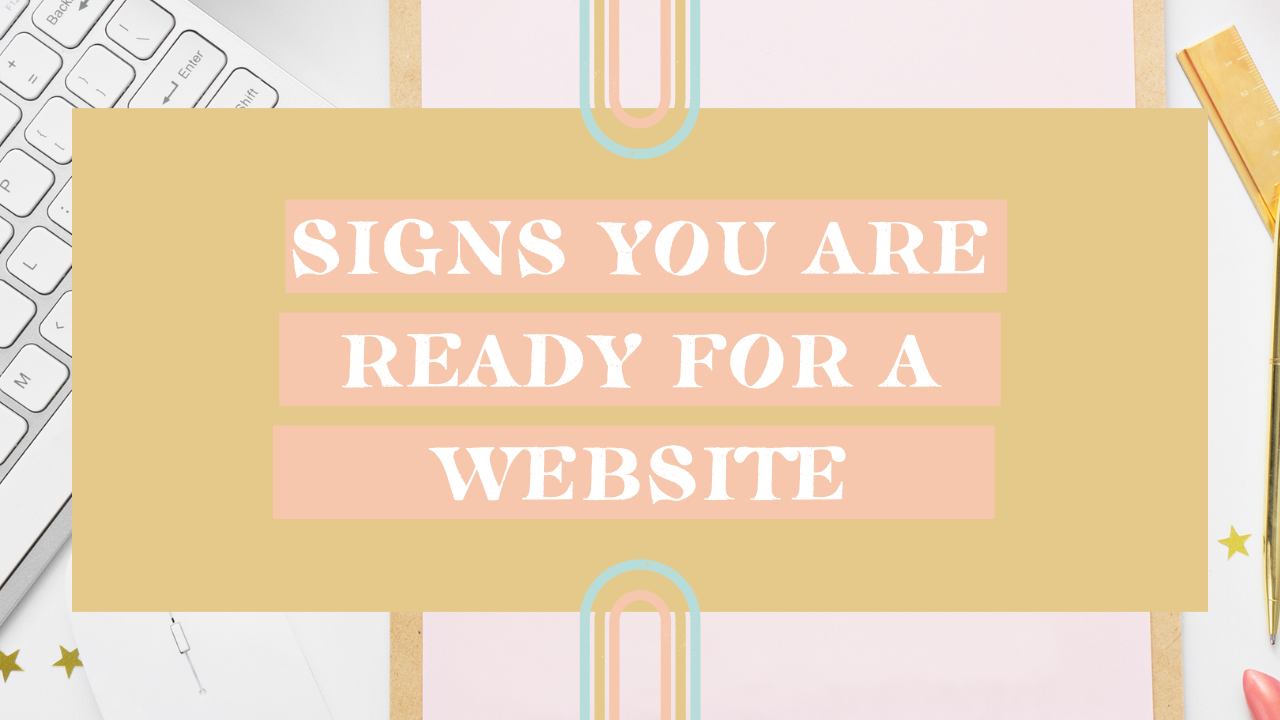 When was the last time you had a good look through your website?
Or perhaps you are new to business and you don't have one yet?
A website is a reflection of your business. It needs regular attention to grow and evolve as your business grows and evolves. You may be offering new services or perhaps you've had a brand upgrade. If yes, then it's time to refresh your site.
Here are a few signs that you might be ready for a website (or an upgrade!)
1. You don't have one!!
Maybe you're brand new to the online space and you don't have a website yet. Although I don't think you need a full website to start out...you will want one eventually.
2. You're embarassed to share the link to your current site.
I get it. You may have done a DIY website just to get yourself started which has worked really well until now! But your business is changing and growing and it's time that your website reflected that.
3. Maybe your current site doesn't reflect the prices you're charging.
Your business changes and evolves over time and that often means that your prices change. When you look through your website - does it reflect your new prices? Often this is a great time for an upgrade or even a whole new site.
4. You might have done some 'ideal client' work and now you're trying to attract a different type of client.
It's important to know who your ideal client is. If you're working with a business coach it's often the first thing that you'll do together - get clear on your ideal client. So perhaps you've done this and realise that the site you have doesn't really attract your ideal client. Time for a change!
5. You've rebranded your business and ready for a fresh site.
This goes without saying really....you've gone through a rebrand? It's time to rebrand your website. It's super important to be consistent with your branding across all platforms.
6. You need to create a seemless and automated funnel for your clients....basically you're tired of doing everything manually!
Again as your business grows and evolves so do your systems. Maybe you've been doing everything manually and it's time to get your processes online so that you can automate and spend more time on actually working with clients. It's time for a website!
7. You want to offer online courses
I specialise in Kajabi - which is an online platform for hosting a website, courses, memberships, podcast, funnels, emails. I often have clients coming to me wanting to offer online courses or memberships and have decided to use Kajabi. Some decide to keep their website where it is...but other decide that having everything hosted in an 'all-in'one' platform (Like Kajabi) is the way to go! Remember you don't have to do this...but know that you can have a beautiful website built on a platform like Kajabi and offer programs like a course or membership.
There are many more reasons you might need a website or an update, But if you said 'yes that's me' to anything above - reach out to me. Let's chat!
I have two offers available if you need a new website or an update (on Kajabi or SquareSpace), so click the image below and check out all the details. Then reach out so we can chat about your project!